Hold it right there!
This page is the property of GhoulGirls90. Please don't edit this page without my permission or you'll probably get in trouble for that. Exception to this is if you're fixing my grammar, spelling, or adding categories, then that's fine.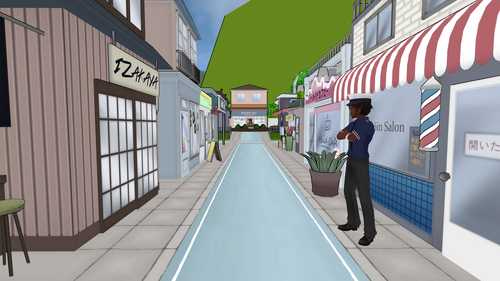 Buraza Town is a small town where Ayano Aishi, Simon Nakoruru and some of other Akademi High students mainly lives.
History
Coming soon.
Places
Maid Cafe
DVD Shop
Odayaka Store
Some Villages
Restaurants
Enemies
Around the street, some of people such as yakuzas and delinquents are considered enemies. They will be randomly encountered everywhere in the town. If they see Ayano or Simon, they will run towards them and start the fight. It is depending on other chapters, why they are trying to cause trouble with them.
Laws
The police will only appear around the town in Ayano's story. They are sometimes seen, likely patrolling around to ensure that there are no one causing trouble. If they catch Ayano fighting with the Yakuzas, delinquents, etc. she will get arrested, along with them, which can lead to a game over.
The police don't appear in Simon's story so the player does not have to worry about them being caught while fighting the enemies.
Trivia
Simon or Ayano randomly encountering enemies everywhere in the town is a reference to Yakuza series.
Credits