Hold it right there!
This page is the property of GhoulGirls90. Please don't edit this page without my permission or you'll probably get in trouble for that. Exception to this is if you're fixing my grammar, spelling, or adding categories, then that's fine.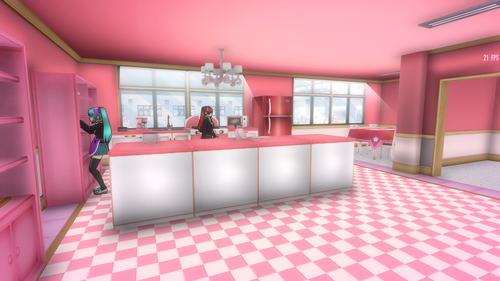 Cooking is one of the current clubs in Akademi High School.
Description
The Cooking Club is where students gather together on a regular or semi-regular basis to take on a large cooking project or explore an unfamiliar cuisine. The benefits are usually to share labor and ingredients. They walk around the school sharing their food they cooked, letting students have a taste of their food. They will also operate a bake sale where students buy their food.
Members
Current
| | |
| --- | --- |
| Name | ??? |
| Club | Cooking |
| Persona | ??? |
| Crush | None |
| | |
| --- | --- |
| Name | Saki Miyu |
| Club | Cooking |
| Persona | Social Butterfly |
| Crush | |
Saki Miyu is the vice president of the Cooking Club. She is also one of the members of this club, last year and currently the only original member. Saki appreciates being a vice president this time but also seems to feel sad because she felt everything was different now than before. She still mourns over the loss of her original club mates and would never stop remembering them.
Okubyona Meido is a member of the Cooking Club. She is a cowardly and anxious girl who often easily gets scared of any spooky stuff she sees. She is secretly an employee at the Buraza Town's Maid Cafe where she works as a maid to earn money to help her family because they were poor. She is soon noticed of her anxiety by Saki so she has willingness to help her where they became friends each other.
| | |
| --- | --- |
| Name | ??? |
| Club | Cooking |
| Persona | ??? |
| Crush | None |
| | |
| --- | --- |
| Name | ??? |
| Club | Cooking |
| Persona | ??? |
| Crush | None |
| | |
| --- | --- |
| Name | ??? |
| Club | Cooking |
| Persona | ??? |
| Crush | None |
Former
| | |
| --- | --- |
| Name | Amai Odayaka |
| Club | Cooking |
| Persona | Social Butterfly |
| Crush | None |
| | |
| --- | --- |
| Name | Shoku Tsuburaya |
| Club | Cooking |
| Persona | Social Butterfly |
| Crush | None |
| | |
| --- | --- |
| Name | Ajia Ashitomi |
| Club | Cooking |
| Persona | Social Butterfly |
| Crush | None |
| | |
| --- | --- |
| Name | Kenko Sukoyaka |
| Club | Cooking |
| Persona | Social Butterfly |
| Crush | None |
| | |
| --- | --- |
| Name | Seiyo Akanishi |
| Club | Cooking |
| Persona | Social Butterfly |
| Crush | None |
Gallery