Hold it right there!
This page is the property of GhoulGirls90. Please don't edit this page without my permission or you'll probably get in trouble for that. Exception to this is if you're fixing my grammar, spelling, or adding categories, then that's fine.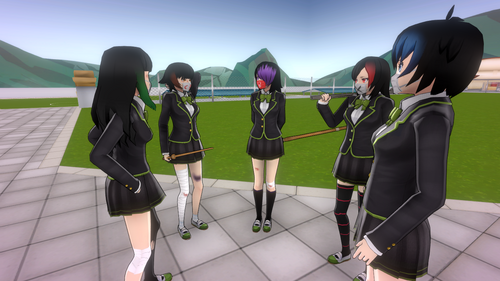 Delinquent Gang is a gang and one of the current clubs in Akademi High School. It is technically not a real club and most of its members are delinquents.
Description
One year ago before Ayano's second year of school in Akademi High, Osoro formed the 'Delinquent Gang' who was praised by the 5 bullied male students after witnessing her defeating the group of violent aggressors on her own with her brute force strength. Osoro had demonstrated that violence was a viable solution to their problems, and that a fearsome reputation would keep their enemies away. Every delinquent is violent, having a rude attitude and they do not tolerate any kind of disrespect or a threat towards them, so better not try to mess with them or irritate them or take a risk unless...if you have nice fighting skills and strong strength. If someone is willing to join them, they must have a poor reputation, very tough personality proving that they are not scared of their enemies who try to mess with them and have a disrespectful attitude like them.
Members
Current
Humoura Konduo is the current leader of the Delinquent Gang who serves as Osoro's successor after her death. She is the most violent delinquent who extremely does not tolerate any disrespect. She appears to know Osoro before and has the extreme loyalty to her. Ever since her former leader's death, Humoura was angry and makes a strong promise for Osoro to avenge her death by taking the culprit of her death down.
| | |
| --- | --- |
| Name | Kame Kawakami |
| Club | Delinquent |
| Persona | Violent |
| Crush | None |
Kame Kawakami is the second-in-command of the Delinquent Gang. In case of Humoura's absence, she is trusted to lead the gang while her leader is away.
| | |
| --- | --- |
| Name | Moriko Sakaki |
| Club | Delinquent |
| Persona | Violent/Neutral |
| Crush | None |
Moriko Sakaki is a member of the Delinquent Gang. She was previously a victim of bullying (but not physically) that resulted her to turn violent, allowing her to become a part of the Delinquents. She appears to be one of the very neutral delinquents who seems to sometimes regret for her violent actions towards anyone else and seemingly wants to get back to her old self again.
| | |
| --- | --- |
| Name | Asami Hanazawa |
| Club | Delinquent |
| Persona | Violent |
| Crush | None |
| | |
| --- | --- |
| Name | Sayaka Hanazawa |
| Club | Delinquent |
| Persona | Violent |
| Crush | None |
Former
| | |
| --- | --- |
| Name | Osoro Shidesu |
| Club | Delinquent |
| Persona | Violent |
| Crush | |
Osoro Shidesu was the leader of the school's gang of delinquents. Very little is known about her past, or her goals. She has been known to be violent, so most people tend to stay away from her out of fear. She has a very strong strength that her punch would immediately knock anyone out due to its brute force.
| | |
| --- | --- |
| Name | Umeji Kizuguchi |
| Club | Delinquent |
| Persona | Violent |
| Crush | Osoro Shidesu |
| | |
| --- | --- |
| Name | Hokuto Furukizu |
| Club | Delinquent |
| Persona | Violent |
| Crush | None |
| | |
| --- | --- |
| Name | Gaku Hikitsuri |
| Club | Delinquent |
| Persona | Violent |
| Crush | None |
| | |
| --- | --- |
| Name | Dairoku Surikizu |
| Club | Delinquent |
| Persona | Violent |
| Crush | None |
| | |
| --- | --- |
| Name | Hayanari Tsumeato |
| Club | Delinquent |
| Persona | Violent |
| Crush | None |
Gallery