Hold it right there!
This page is the property of GhoulGirls90. Please don't edit this page without my permission or you'll probably get in trouble for that. Exception to this is if you're fixing my grammar, spelling, or adding categories, then that's fine.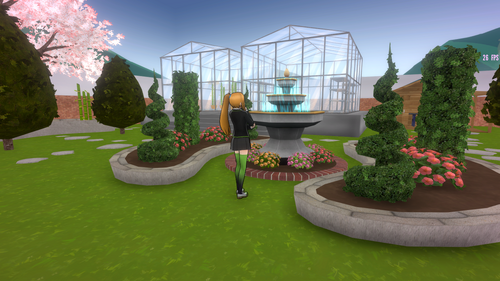 Gardening Club is one of the current clubs in Akademi High School.
Description
Gardening is a club where students are very interested in gardening, gardens, and plants. A flower club is a similar group with a focus on flowers.
Members
Current
Himari Fujita is the president of the Gardening Club. She is one of the original students in Akademi High School massacre last year. She was also a member of this club last year.
| | |
| --- | --- |
| Name | Maya Xander |
| Club | Gardening Club |
| Persona | Social Butterfly |
| Crush | None |
| | |
| --- | --- |
| Name | Sezuka Tono |
| Club | Gardening Club |
| Persona | Social Butterfly |
| Crush | None |
| | |
| --- | --- |
| Name | ??? |
| Club | Gardening Club |
| Persona | ??? |
| Crush | None |
| | |
| --- | --- |
| Name | ??? |
| Club | Gardening Club |
| Persona | ??? |
| Crush | None |
Former
| | |
| --- | --- |
| Name | Uekiya Engeika |
| Club | Gardening Club |
| Persona | Social Butterfly |
| Crush | None |
| | |
| --- | --- |
| Name | Sakura Hagiwara |
| Club | Gardening Club |
| Persona | Social Butterfly |
| Crush | None |
| | |
| --- | --- |
| Name | Sumire Suzuki |
| Club | Gardening Club |
| Persona | Social Butterfly |
| Crush | None |
| | |
| --- | --- |
| Name | Tsubaki Uesugi |
| Club | Gardening Club |
| Persona | Social Butterfly |
| Crush | None |
Gallery