Hold it right there!
This page is the property of GhoulGirls90. Please don't edit this page without my permission or you'll probably get in trouble for that. Exception to this is if you're fixing my grammar, spelling, or adding categories, then that's fine.
Info-chan is one of the two secondary antagonists and a main character in GhoulGirls90's Fanon. She is Ayano's main ally and assistant who has been a main source of help and information, performing several tasks such as introducing rivals or unknown people to her. She also provides Ayano with items and scheme walkthroughs in exchange for Info Points. In Future Mode taking place in 2021 aftermath of massacre, she attends at Akademi High School with Ayano physically.
Description
Info-chan is an information broker. She is formerly the member of the Info Club and currently, the member of the Photography Club. She had been helping Ayano with her situation by gathering her information of others, giving her items that she would need, etc. She usually requires Ayano to take panty shots for her first before she could do her a favor. She also has a reputation of having Ayano incriminate the other people and having the evidence sent to her and uses it to blackmail them. She seems to enjoy this, and this scheme would also probably help Ayano in some cases.
One year later, as showing herself now in person at Akademi High school, none are very suspicious and aware about her, so other students think she is a normal good person.
Personality
Info-chan is extremely intelligent and smart. Almost everything she could get the information, such as identifying other students, teachers, etc. When in public, she is very quiet, calm and tries to carefully act casual to avoid any suspicions towards her. She only gives information to anyone she fully trusts, especially Ayano.
Persona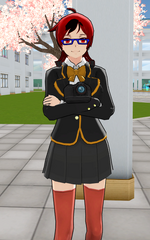 Info-chan uses the Social Evil persona. She does not get annoyed and cover her face when camera is aimed at her. As Ayano, she will smile with crossing her arms when aiming a camera at her, but while as Simon, she will give a suspicious look. When witnessing murder, she will compliment at Ayano by slightly nodding at her with smirking and laugh quietly.
Relationships
Ayano Aishi
It is unknown why Info-chan was very willing to help Ayano when she had only met her for the first time as a stranger. They are not friends each other, though, they are still in alliance. Info-chan seems to only try to use her as a advantage to complete her unknown plan. However, in later weeks, when they eventually did ended up becoming friends with each other, Info-chan cancelled this plan against Ayano. Ayano would also do favors for her and Info-chan also does for her too. Ayano finds her interesting and helpful to her plans, since Info-chan can provide everything for her that helps her eliminate her rivals and clearing evidence.
Kencho Saikou
Coming soon...
The Journalist
The Journalist is revealed to be Info-chan's father. She is shown to care for him when she feels pity of seeing her father suffer due to his permanent damaged reputation caused by Ryoba Aishi into thinking he only accused her of murder for the sake of sensational headlines.
Ryoba Aishi
Info-chan most likely has a grudge towards Ryoba because she knows she is the responsible for the cause of suffering of her father. She plans to get revenge against her by providing information about Ryoba's true motives to public.
Shiromi Torayoshi
Shiromi became aware of Info-chan, when she suddenly sees her talking with Ayano. This makes Shiromi realize that she has been helping Ayano for something villainous happened in the Akademi High School. It's likely that Shiromi would inform Megami and the other student council about Info-chan's connection to Ayano.
Gallery