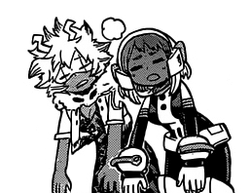 sorry david, if im gonna catch a case i'd rather it not be gay
Kaori Nagashima belongs to the FANDOM user chloe. Please don't edit this page unless you either have her permission or you are doing an important edit. Also, please give critique on this character, as it could have room for improvement.

corned beef will forever be the superior meat.
Appearance
Kaori has long wavy red hair, with a small strand of hair sticking out at the top of her head. She has light purple eyes and light pink cheeks. She wears the default uniform unless a different one is chosen by the player. Kaori prefers to not wear any makeup, but if she did, it would be rather light, using only mascara and blush.
Kaori is rather short at her age, standing at 5'1" and weighing about 105 lbs. She is rather conscious about her height, wishing to be taller than her peers. Her classmates think that she presents less feminine than some of her female classmates.
Outside of school, Kaori wears a black and white striped shirt with a white suspender skirt in the town. She also wears thigh-high black socks with spats underneath her skirt.
rest is a wip cuz i'm at school :P