Um...Hi....Are you editing this page?
Well, you better not, unless you have my permission!
Karebu Kakushi is an OC created by Karebu15. He is a student at Akademi High School. He is not exclusive to Yandere Simulator and is used for many other stories, artwork and fandoms
Appearance
Karebu has dark pink hair with matching coloured eyes. On his left ear, he wears a single black stud. He has an average build and is neither tall or short. He has quite fair skin like most residents of Japan.
His school uniform depends on the player choice and is not set. Out of school, however, Karebu dresses in stylish bow-ties, button-up shirts and waistcoats.
Personality
Although seeming bubbly and excitable on the outside, similar to a Social Butterfly, Karebu is actually depressed, and shies away from any danger, whether it social or physical (This is particularly useful when murdering a rival). This was brought on by a moment in his childhood that no one has any knowledge about.
He is an aspiring musician and therefore is a member of the Light Music Club. He can often be found playing the piano or singing in the club room at break periods, whenever he needs to be alone.
Likes
Playing Music
Listening to Music
Light Music Club
Watching people play music
Music in general
Food
Dislikes
Dishonesty
Bullying
Unfaithfulness
Olives
Relationships
Yoshi Kakushi - Father
Yuuta Kakushi (Deceased) - Mother
??? - Partner
Gallery
(The elf one is from my friend's WIP Manga)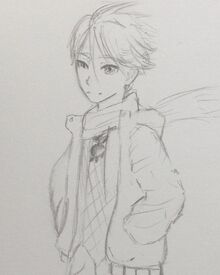 Trivia
Karebu is friends with Midori Gurin and can tolerate her annoying questions (although it can be too much).
He lives in Shistuta Town.
You can often find him singing to himself, whether that be in class or anywhere else!
He loves music a little too much.
His favorite food (even though very cliché) is pizza, and loves Cola.
Usage
Please ask me if you would like to use him for Relationships, Friendships, Mods etc.
You may RP with him, just don't claim as your own OC!
DO NOT use for any art or media without crediting meee!