Hold it right there!
This page is the property of GhoulGirls90. Please don't edit this page without my permission or you'll probably get in trouble for that. Exception to this is if you're fixing my grammar, spelling, or adding categories, then that's fine.
Kei Takahashi is a major character and currently one of the students that attend Akademi High School in GhoulGirls90's Fanon's Future Mode and the main protagonist in Backstory Mode. Along with Shiori and Kayano, she is a former student at Higashi High School and a survivor of its massacre created by Yamara Aishi.
Description
Kei Takahashi is currently the treasurer of the Student Council and one of the popular figures in Akademi High School. She is Shiori's best and close friend. She has experience about having some people in the world are suffering due to lack of money that disallows them from continuing on with their lives that make her learn to manage money and conserving them. Perhaps, this is what made her to be promoted in this position.
Along with Shiori, Kei is also the former student of Higashi High School. She mainly has high interest in martial arts and used to be a member of that club. She was also supposed to become a Martial Arts Club's new leader but in the end, she decides to retire from that club but that did not anger the members so they respected her decision. She then met Shiori and became close friends with her.
Personality
Kei appears to be cute and calming but she is also tough, brutal and hostile towards criminals such as Yamara Aishi. She is not that completely calm because there is actually someone who can make her lose her patience which is Yamara, who mocked her about her deceased former schoolmates back at the Higashi High School since Yamara never forgets her being a witness to her crimes and is someone who ruined her plans. Since she strongly cares for her friends "Shiori and Kayano", if she also sees someone attacking either Shiori or Kayano, she will get angry and attack them for trying to hurt her friend. She has a strong sense of justice that she wouldn't really let anyone get away with their crimes and she won't hesitate to apprehend them.
Persona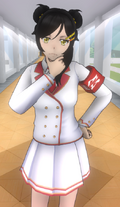 Kei has the Dangerous Persona. Unlike other past Student Council members, she will react with a suspicious look if a camera is aimed at her. If she witnesses Ayano committing murder, she will run towards the culprit and use her pepper spray to apprehend them. If she also sees Ayano attacking Shiori or Kayano, she will be furious and run towards her and brutally attack her without mini-game struggle.
Relationships
Shiori Aikawa
Shiori is Kei's best and close friend since they first met each other at Higashi High School after retiring from Martial Arts club. Her relationship with Shiori is very strong so if Kei feels she can't solve her problem by herself, she would always rely on her. After Yamara has murdered other girls for having a crush on Hansamuna Hito, Kei became worried for Shiori's safety due to fearing that Yamara might also kill her that makes her protective towards her friend. If she also see anyone attacking Shiori, she will get so angry and brutally attack Shiori's assaulter. Though, Shiori would probably feel creeped out when she sees her friend trembling with rage and really would hardly try to calm her down.
Kayano Sukado
Coming soon...
Yamara Aishi
Along with Shiori, Kei knows Yamara because she had a history with her who is later revealed to be witness of her crimes and being behind the massacre at Higashi High School. Two years ago before the events of Future Mode, Yamara is Kei's schoolmate since they attended in the same school. Kei thinks she doesn't look bad at first until she quietly witnessed her murdering a girl for having a crush on her Senpai. To her horror, Kei had to do something but she realizes that simply telling what she saw might not make anyone believe her. With her former school is alerted by a murder but unable to identify the culprit, Kei makes a plan of providing evidence against Yamara committing a crime in order to stop her. While Yamara is unaware that Kei saw her what she just did, Kei knows that she has to do it stealthily.
Task
Coming soon...
Gallery