Hold it right there!
This page is the property of GhoulGirls90. Please don't edit this page without my permission or you'll probably get in trouble for that. Exception to this is if you're fixing my grammar, spelling, or adding categories, then that's fine.
Kencho Saikou is the tertiary antagonist and one of the main characters in GhoulGirls90's Fanon. He is Megami's younger brother and now the heir to the Saikou Corp. He is currently taking the responsiblity of being temporary CEO of Saikou Corp, while his father with his wife are away at overseas.
Description
Kencho is the son of Saikou Corp's CEO and Megami's brother. He is purposed of being a "backup" in case his sister ever dies or abandons her obligations towards her family. While he is Megami's brother, he has rivalry relationship with her. He isn't like his family members who strived to be as honorable, respectable, and dignified as possible.
It impresses me that he is the only person who knows how to get under Megami's skin, push her buttons and make her lose her temper. Although, his sister can still outperform him.
Enjoy and feel lucky that this boy praised for you for literally getting rid of his sister for him. Don't forget that he's with us now and you can also ask a help from him if you ever need him in certain situation.
Personality
Kencho is considered a smug and cocky person but only to those people who attempt to disrespect and underestimate him. While he cares about his family, he doesn't feel he wants Megami who only treated him like a dirt, and very jealous of her for being the one to inherit the company instead of him.
Persona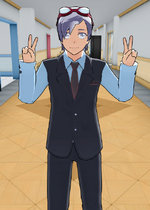 Kencho uses the Social Evil Persona. As both Ayano or Simon, Kencho will smile at the camera with peace pose when aiming a camera at him. He compliments Ayano if he witnesses her murder, especially the students that he doesn't like.
Relationships
Ayano Aishi
Kencho is shown to be very fond of Ayano and feels interested in her since he learned she was responsible of Megami's death, literally getting rid of her for him. Along with Info-chan, surprisingly, Ayano had actually accepted his offer of giving them a job to Saikou Corp as a reward.
Info-chan
Like Ayano, Kencho is also fond of Info-chan and feels impressed how she is able to get personal information of other people. He thinks she might be very useful to him and of course, he always pays her for help.
Megami Saikou
Kencho often avoids interacting with Megami due to how she treats him. He used to care about her but eventually not anymore because of how she was extremely strict, ignorant, ruden, stubborn and even easily critizes him. According to Kencho, he mentions to Ayano that Megami was like disciplining him like a mother for his casual attitude and refusing his every apology for making mistakes. Megami's mistreatment towards him is most likely the reason why Kencho disliked her and wished her permanent disappearance.
He tries to compete with Megami many times after being offended by her but she always wins. However, he soon develops a skill of knowing how to make her lose her temper. This makes Megami threatening to beat her brother but she knew that their parents would punish her if she tries to hit him.
Ichirou Saikou
While Kencho wants the outcome of becoming the next CEO of Saikou Corp, he cares about his father. He always wants to make his father proud of him and didn't really want to disappoint him.
Gallery