Hold it right there!
This page is the property of GhoulGirls90. Please don't edit this page without my permission or you'll probably get in trouble for that. Exception to this is if you're fixing my grammar, spelling, or adding categories, then that's fine.
Kiyoko Tatsuhara is a major character in GhoulGirls90's Fanon. She is one of the original students before the incident at the Akademi High School. She is formerly the Public Relations Director and currently the president of the Student Council, succeeding Megami.
Description
A hot-blooded young woman with a burning passion at all times, and be the physical embodiment of guts and determination. She is the former Public Relations Director of the Student Council. She's absent before until the event of horrible incident at the Akademi High School.
Currently, she's the Student Council President now. After the loss of last year's Student Council members, Kiyoko develops a depression and has a hard time trying to cope with their loss.
I have to warn you to also be careful around her. She is still serious though at doing with her duties as a role of president. There's no really telling if she finds out that you killed her friends. Try to stay in stealth, keep it a low profile and don't let her become suspicious and wary about you.
Background
Kiyoko is the former public relations director of the Student Council and was absent before until the event of horrible incident at the Akademi High. She is also the friend of original five student council members. The deaths of Megami, Aoi, Shiromi, Akane and Kuroko, led her to depression and is mentally traumatized. In since their deaths, and now currently being the president, she feels everything wasn't the same without them and being with different new student council members. Her new council mates felt remorse for her about the loss of her five friends, so they try to cheer her up.
Personality
Kiyoko is friendly, cheerful, energetic but sometimes also serious. If she had seen someone got into fight, she would tell them that they should talk to each other peacefully instead of fighting, but if they refuse to listen, Kiyoko will not hesitate to send them to the Guidance Counselor for their misbehavior. Kiyoko may look tough but she does not also approve anyone using violence and delinquents who make a complete rude behavior. Kiyoko would also not hesitate to fight anyone who really dares to hurt her and would say "Don't say I didn't warn you then."
However, one year later, Kiyoko's personality has drastically changed; she always appears in depressed look due to loss of her friends but tries to play it around that nothing's wrong if someone sees her sad to avoid them from concerning about her. She becomes so hesitant to have anyone involved with her problem just to help her. She doesn't always appear cheerful anymore. She feels that she probably could have done something to prevent their death. Although overwhelmed with depression, Kiyoko tries her best hardly not to think too much about her deceased friends and move on. While she appreciates being now a Student Council president, she feels everything wasn't the same without her friends.
Persona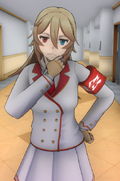 Kiyoko has the Dangerous Persona. Unlike other past Student Council members, she will react with a suspicious look if a camera is aimed at her. If she witnesses murder, she will run towards the culprit and apprehend them. Like Megami, Kiyoko will not use a pepper spray and instead, use her bare hands when apprehending Ayano.
Relationships
Kei Takahashi
Coming soon...
Shiori Aikawa
Coming soon...
Megami Saikou
Kiyoko is a close friend to Megami. They are shown to be in good terms. Megami was upset of her that she had to be absent at school for some valid reasons but reassures her that she'll be back soon. There is not much known why Megami chose her to be in Public Relations Director position and how they became friends each other.
Aoi Ryugoku
Like Kuroko, Kiyoko doesn't approve Aoi using intimidation just to maintain everything in peace, but she isn't open to her about it. She always responds for her that they're leaving now when she is aware that Aoi was getting lost of her temper by a person she's talking to.
Shiromi Toriyashi
Kiyoko thinks Shiromi is weird but also sees her as a friend. Shiromi also loves to prank her, though, Kiyoko doesn't get annoyed with it.
Akane Toriyasu
Coming soon.
Kuroko Kamenaga
Coming soon.
Gallery