Hold it right there!
This page is the property of GhoulGirls90. Please don't edit this page without my permission or you'll probably get in trouble for that. Exception to this is if you're fixing my grammar, spelling, or adding categories, then that's fine.
Mei Mio is a supporting character and currently one of the students that attend Akademi High School in GhoulGirls90's Fanon. She is one of Saki and Kokona's best friends.
Description
A studious girl who is one of Saki and Kokona's best friends before they enrolled at Akademi High.
She often focuses on her school activities and can be sometimes distant, although she also does have some time to hangout with her friends. She's known to be very intelligent on solving mathematical and scientific problems.
Appearance
Coming soon.
Personality
Mei is known to be serious, studious and scholarly. She usually focuses on school activities but also has a time to spend time with her friends. She can be also distant to her friends sometimes due to being obsessed of studying.
Persona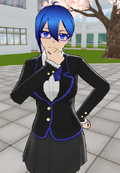 Mei has the Teacher's pet Persona. She will give a suspicious look if a camera is aimed at her. If she witnesses murder or finds a corpse, she will report it to her favorite teacher. She cannot participate the fight unless if she sees Ayano killing her friends.
Relationships
Saki Miyu
Coming soon.
Kokona Haruka
Coming soon.
Yui Rio
Coming soon.
Koharu Hinata
Coming soon.
Yuna Hina
Coming soon.
Quotes
Coming soon.
Gallery