Suzu Mori

Student Info

Career
Unknown
Reputation
Unknown
Club
Gaming
Age
17
Persona
Unknown
Crush
Sota Yuki
Additional Info
None
Suzu Mori is an OC character created by Wiki user StupidUsername123.
Appearance
Suzu is 5'4 and 110 pounds with an hourglass figure. She wears the default female uniform with black thigh high socks and red thick frame glasses resembling the glasses Mirai wears from Kyoukai No Kanata. Suzu has dark purple hair and wears it in pigtails being held up by two black ribbons tied into a bow and has a round group of hair sticking out known as an ahoge. While working at her part-time job at the local maid cafe that her uncle owns, her uniform is a lavender button down dress with a small white petticoat underneath, a white apron, and a black tie underneath her collar.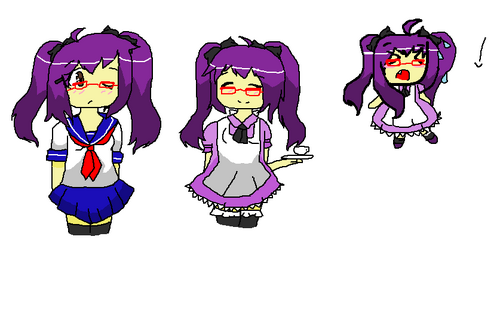 Personality
Suzu is known to be a hyper, positive energy and free spirited girl, being the genki girl she is, much like a cheerleader. Due to this, she's often suggested to become one. However, she decides not to due to her being more interested in indoor activities. She's often clumsy and over ambitious, becoming somewhat egotistical at times. However, she's quite friendly and is mostly tolerable.
Magical Girl
While school is over, Suzu fulfills her duty as a magical girl, with the system referencing Madoka Magica. She wished for her to be able to live on her own despite being underage. Mori wished for this when she was 12 because she got angry with her parents. To this day she regrets this decision and believes she was being naïve. While fighting, she battles with a 7 foot tall black and purple hammer. It often becomes hard to fight with when you're close to being 5'0. Her outfit consists of a black underbust corset tied with a purple ribbon, frilly white bloomers, purple stockings and white flats.
Community content is available under
CC-BY-SA
unless otherwise noted.