So far I am the creator of Kora Waifu, Miracha Miyu, Yako Ats, Ema Utsukushi, Kimi Kioko, Koto Kioko, Mitti Tashoku, Kitti Tashoku, Raburi Mi, Shai Ona, Minni Ona, Sumato Mi, Furu Ama, Ongaku Gara, Aka Gakusei, Kichohin Nijino, Ichii Noko, Shurui Najako, Ao Neko, Josei Satsujinsha, Marisode Wanai, Kanjo Narisuto, Ritoru Noko, Sukina Puritiku, Yumay Yume, Purofiru Gazono, Damatte Uwamuki, Shimai Gazono, Heikin Ijiwaruna, Inazuma Sendai, Akagi Uwamuki, Ichika Yudai, Nimi Koki, Yorozuya Korekara, Kioshi Kenta, Sutori Kureddo, Princess Lovely. So far i hope you enjoy my company with you and others. (>w<) But when you see these OC name's just look them up on the search bar if you want or just click the link FYI just click the link instead. And so far basically I own 35 OC's even though two of my OC's pages aren't created. Also of course my user name is The Basu Sisters.
Lovely + JustaPerson + RedRush = OUR FUDGING BEAUTIFUL FRIENDSHIP!!
Template:Extremely Detailed Infobox
MY ONLINE SENPAI'S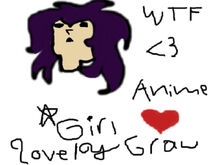 My Anime Crushes (I'm kinda shallow but just don't judge!!!) Or Animated Crushes
Kanato Sakamaki (Diabolik Lovers)
Juuzou Suzuya (Tokyo Ghoul)
Yukine (Noragami)
Syo Kurusu (Uta no prince sama)
L (Death Note)
Grell Sutcliff (Black Butler)
Akise (Future Diary)
Yandere-kun (Yandere Simulator)
Budo Masuta (Yandere Simulator)
Sal (Wadanohara)
Soul Evans (Soul Eater)
Akira Midousuji (Yowamushi Pedal)
Ulquiorra Cifer (Bleach) (Probably BAE)
Bardroy (Black Butler) (Also Probably)
Schrodinger (Hellsing)
Yumeno Kyasaku (Bungou Stray Dogs)
Ouji Kosaka (Future Diaries) (Maybe)
Nagata Shinichi (SAO) (Maybe)
Junichirou Tanizaki (Bungou Stray Dogs)
Kenjirou Minami (Yuri on Ice)
Ryota Mitarai (Danganronpa)
Sometimes I think of my kawaii baes as kittens!
HOW I FEEL ABOUT THEM!!
https://www.youtube.com/watch?v=dnwJ5mata_Y
Other Crushes
Waylon Park (Outlast)
Nice Cream Guy (Undertale)
Yandere Simulator Ships
Ayano x Budo
Saki x Kokona
Pippi x Ryuto
Senpai x Kokona
Senpai x Amai
Senpai x Kizana
Senpai x Oka
Senpai x Asu
Senpai x Muja
Senpai x Mida
Senpai x Osoro
Senpai x Megami
YandereDev x Midori
YandereDev x Mai
Ryoba x Yandere-chan's Father
Info-chan x Yui
Koharu x Hayato
Kokona x Riku
Saki x Sora
Mei x Ryusei
Yuna x Sota
Yui x Haruto
Yui x Yuna
Muja x Mida
Hanako x Budo
Ayano x Senpai
Budo x Osoro
Flame Demon x Sakura
Budo x Shin (OTP)
Juuzou x Kaneki
Juuzou x Hanbee
Juuzou x Seidou
Rei x Nagisa
Yukine x Yato
Sebastian x Ciel
L x Light
Akise x Yuki
Kanato x Azusa
Eren x Levi
Undertaker x Grell
Yuri x Victor
Grell x William
Syo x Natsuki
Sal x Samekichi
Laito x Kanato
Grell x Sebastian
Rip van winkle x Alucard
I FEEL SO BAD FOR TYPING THIS GOD!!!
Koutarou x Akira (Lizard Man LOL)
Akira x Onoda
Akira x Koutarou
Aoba x Noiz
Waylon x Eddie
Sebastian x Joseph
Favorite Characters
Robot-chan!!
Budo Masuta!!
Inkyu Basu!!
Sakyu Basu!!
All Of My Baes
Juuzou Suzuya (Tokyo Ghoul)
Yukine (Noragami)
Sal (Wadanohara)
Budo Masuda (Yandere Simulator)
Yandere-kun (Yandere Simulator)
Kanato Sakamaki (Diabolik Lovers)
L (Death Note)
Akise (Future Diary)
Grell Sutcliffe (Black Butler)
Syo Kurusu (Uta no prince sama)
Soul Evans (Soul Eater)
Akira Midousuji (Yowamushi Pedal) (Don't judge because i'm weird ok)
Bardroy (Black Butler)
And you guys ^^
User's Note: Just go to my anime crushes instead
Template:OC Template! ^^
Loves
Steak
Yoai
Anime
Art
Yandere Simulator
My OC's and other people's too (maybe not always though)
Yandere Simulator Fanon Wikia
Yandere Simulator Wikia
All my baes
Ships
Romance/Love
Reading yoai lemons
Making OC's
Making anime art or just regular art
Technology
Video Games
Shotacon
Yoai hentai
Legend of Korra
Dislikes
Yuri and shoujo
Tomatoes
Onions
This that annoy me sometimes
Fights
People that take the fun out of stuff
My long a** username
Kisekae's Junkyard
Lily Vora (claimed by TheFunGame)
Shota Rocku (claimed by TheFunGame)
Olo Cool (unclaimed)
Miley Watsuki (unclaimed)
Aura Suzu (unclaimed)
Samantha Just (claimed by Raytaygirl) 
Pink Hair Girl (lol sorry i just didn't feel in the mood to think of a Japanese name)
Ai Noonna (Unclaimed)
New kisekae for jy (Claimed by TheFunGame)
Clubs/Fanon Clubs
Meifwa Club:
Misaki Yuzuki
Kiwa Kiyoko
Hisa Hoshi
Jin Jun
Magic Club:
Ichika Yudai
More About Me (^3^)
I hate tomatoes, but like ketchup
I love steak!!!
Basically i love all the colors of the rainbow
I have a sister and a puppy
I draw a lot
I like to read lemons don't judge me i'm a ship maniac
I read fanfic mostly ships
Sometimes i love to insert terrible puns between my words, even explaining them
Hates school
I have an interest in Yoai and Shonen
I plan on dying my hair rainbow in the future
Keeps a journal
Goes on Yandere Simulator and the Fanon wikia
Loves anime and will be offended if someone says that it is inappropriate >:(
Plans on watching Love Live! Sunshine!!
I am a Tsundere
I am interest in fictional boys but not reality ones >:\ which i think are overrated. Sorry to the girls here who have boyfriends that are real :(
Has 2 sisters and 1 brother
In real life i have 4 friends
I am very curious
I am a Fujoshi
Scared of Spiders and Snakes
Stays up late
Listens to music very often and replays them because they are so good!! =D
My favorite Yandere Simulator Character is Inkyu Basu
My favorite Yandere Simulator rival is Amai Odayaka
My Yandere Simulator senpai is Budo Masuta NOTICE ME BUDO!!
I make OC's on Yandere Simulator Fanon Wikia
I am sometimes Hotheaded. (but not on here most of the time)
I am good at drawing anime (kinda) (in progress)
Prefers to be alone when working (Commonly on this wikia or wikia's)
I am Catholic
I love Mango Smoothies and Sweet Ice Tea
I work alone on this channel despite the channel name
I love Youtube
I hate the cold SO MUCH!! >:(
People at my school used to think i was weird =(
Sydney is my real name
I like to watch Pokemon (I don"t really watch it anymore though)
My favorite song is Stereo Hearts
I am not very good at dancing
I am a Christian
I am good at art (but still in process) (^.^)
I plan on watching Uta no prince sama soon (probably)
I plan on watching Dramatical Murders (probably)
I might only have crushes on fictional boys until my hormones kick in
My Acquaintances
(Don't really know but communicated on this wikia or at least some people i have seen)
JaneOrJustMe (first acquaintance) 
Grapeleaf Skeletonizer 
KiwiliciousKitteh 
Jackboog21 
TheFunGame
TheCountess16 
Yuki Ona 
Yoshafire
TheRainbowPower 
Nijino
Redandsymmetry 
Strawberry Imouto 
S49484  
Chloe Heartfilia
PISTACHIOLORD 
Jacbocford 
Bluecats 
NightoftheDedsec  
SirVickALot  
JustaPerson0107  
RedRush3999  
Favorite Songs
Just Like Fire By Pink
Fight Song By Rachel Platten
Shut Up And Dance By WalkTheMoon
On My Own (From "Teen Beach 2")
Roar By Katy Perry
I Kissed A Girl By Katy Perry
If Only (From "Descendants")
(I Can't) Forget About You By R5
Gym Class Heroes: Stereo Hearts ft. Adam Levine 
So What By Pink
Stronger (What Doesn't Kill You) By Kelly Clarkson
Confident By Demi Lovato
Heart Attack By Demi Lovato
Girlfriend By Avril Lavigne
Ooh La La By Britney Spears
My House By Flo Rida
Whistle By Flo Rida
Good Feeling By Flo Rida
Wild Ones By Flo Rida ft. Sia
Super Psycho Love By Simon Curtis
Pretty Little Psycho (Harley Quinn)
Mine By Phoebe Ryan
Rather Be By Clean Bandit ft. Jess Glynne 
Cannibal By Ke$ha 
Take It Off By Ke$ha 
We R Who We R By Ke$ha 
Die Young By Ke$ha 
Crazy Kids By Ke$ha 
Tik Tok By Ke$ha 
Your Love Is My Drug By Ke$ha 
Really Don't Care By Demi Lovato ft Cher Lloyd 
Sugar By Maroon 5 
Headphones By Britt Nicole 
California Gurls By Katy Perry 
I Kissed A Girl By Katy Perry 
Cake By Melanie Martinez 
Hello By OMFG  
Take A Hint By Victorious Cast 
Closer By Chainsmokers 
22 By Taylor Swift 
Heartbeat Song By Kelly Clarkson 
Call Me Maybe By Carly Rae Jepsen 
Last Friday Night By Katy Perry  
Bad Blood By Taylor Swift