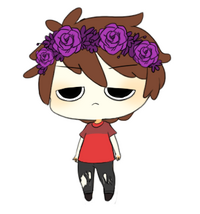 Hello! I'm redandsymmetry. You can call me Red or Lukas! If you couldn't tell by my username, I like the colour red, and I like when things are symmetrical.
Please refer to me using 'they/them' pronouns!
Also check out my quotes page
A few things you need to know
I address most people with they/them pronouns unless I know which pronouns they prefer, so please do not get upset at me for this.
I can also be very forgetful sometimes, so if I forget about something you asked me to do, please remind me!
Upcoming OCs
Kira Miyara
Minato Miyara
Random facts about Me!
My love of symmetry started when I started watching Soul Eater.
I love to sing, but I suck at it.
I love to draw, but I suck at it.
I have made a Burn Book with my former best friend.
I have 7 pets (2 dogs, 4 cats, 1 rabbit).
I have my own YouTube channel.
I literally hasn't worn a pair of jeans in years, and probably never will again.
I probably owns at least 5 pairs of headphones.
I don't like pineapple on pizza. Never have, never will.
Songs I love
Cake, Dead To Me, Mad Hatter, Milk and Cookies, Teddy Bear, Play Date, Training Wheels, Soap, Bombs on Monday Morning, You Love I, Tag, You're It, Sippy Cup, Pity Party, Dear Porcupines, Cry Baby, Blue Knees, Birthing Addicts, Smoke, PIGGYBACK
Control, Gasoline, Colors, Now or Never, Bad at Love, New Americana
Cheap Wine and Cigarettes, Kiss Me Quiet
The Phoenix, Young Volcanoes, Irresistible, Save Rock and Roll, Thnks Fr Th Mmrs, Sugar, We're Goin Down, Grand Theft Autumn/Where Is Your Boy, Dance, Dance, This Ain't A Scene, It's An Arms Race, I Don't Care, 20 Dollar Nose Bleed, My Songs Know What You Did In The Dark, What A Catch, Donnie, Champion
Girls/Girls/Boys, This Is Gospel, Let's Kill Tonight, LA Devotee, Crazy = Genius, Hallelujah, The Ballad of Mona Lisa, Miss Jackson, Victorious, Don't Threaten Me With A Good Time, Emperor's New Clothes, Roaring 20s, One of the Drunks, Say Amen (Saturday Night)
Teenagers, Cancer, Blood, Helena, I'm Not Okay (I Promise), Mama, The Ghost of You
Not Today, Fall Away, Kitchen Sink, Migraine, Car Radio, Holding On To You, Tear In My Heart, Ode To Sleep, We Don't Believe What's On TV, Forest, Trees, The Pantaloon, Addict With A Pen, Johnny Boy, Cancer (MCR cover), Isle of Flightless Birds, Heavydirtysoul, Jumpsuit, Nico and the Niners
Sex Yeah, Primadonna, Teen Idle, Homewrecker, Bubblegum Bitch, How To Be A Heartbreaker, Savages, Oh No!, Starring Role, Happy, Hollywood, Shampain
Praying, Woman, Hymn, Let 'Em Talk, Rainbow, Bastards, C'mon, Dancing With The Devil, Gold Trans Am, Thinking of You, Dirty Love, Wonderland, Crazy Kids
Chained To The Rhythm, Last Friday Night (T.G.I.F.), Teenage Dream, California Gurls, I Kissed A Girl, Firework, Hot n Cold, Dark Horse, Roar, E.T., The One That Got Away, Wide Awake, Thinking of You, Part of Me, Circle the Drain, Witness, Save as Draft, Hey Hey Hey, Swish Swish, Roulette, Miss You More, Mind Maze, Unconditionally, Power
Really Don't Care, Heart Attack, Cool For The Summer, Neon Lights
D.T.M (Dead To Me), Flesh, Super Psycho Love, I Hate U
Sarcasm, Don't You Dare Forget The Sun, God Damn Liar, Whore
Scars to Your Beautiful, Here, Wild Things, How Far I'll Go
Fuckin' Perfect, Raise Your Glass, Stupid Girls, Just Like Fire, What About Us, Get The Party Started, Beautiful Trauma, Who Knew, Please Don't Leave Me, Funhouse, Dear Mr. President
Born This Way, Judas, Bad Romance, Alejandro, Applause, Paparazzi, Million Reasons, Perfect Illusion, John Wayne |Rachel Platten= Fight Song, Stand By You |Hamilton= Literally the entire musical. Yes, actually the entire musical. |The Neighbourhood= Afraid, Everybody's Watching Me (Uh Oh), Daddy Issues, How, Scary Love, Heaven, Dust, Stuck with Me, Void, Sweater Weather, R.I.P. 2 My Youth |Billie Eilish=
my boy, COPYCAT, party favor, &burn, Bellyache, Ocean Eyes, watch, lovely, Bored
Joke Gallery of Red
Other stuff