Hold it right there!
This page is the property of GhoulGirls90. Please don't edit this page without my permission or you'll probably get in trouble for that. Exception to this is if you're fixing my grammar, spelling, or adding categories, then that's fine.
Yui Rio is the pentagonist and currently one of the students that attend Akademi High School in GhoulGirls90's Fanon's Future Mode and the main protagonist in Yandere Simulator: SNAP Mode 3. She is one of Kokona and Saki's best friends.
Description
Last year before the massacre at Akademi High, this girl is also one of Kokona and Saki's best friends before they first enrolled at Akademi High. Her friends sometimes considers her annoying due to her teasing attitude but Yui still loves her friends.
According to Kokona, Yui temporarily lost her friendship with Kokona and Saki due to her pranking gotten too far, but she was eventually able to make up with them and restored their friendship.
Backstory
Before Saki and Kokona first enrolled at Akademi High, Yui was with Koharu, Mei, Yuna at Buraza Town Street where they first met the two. She quickly became friends with them and enjoys spending time with them. However, one day, Yui began to make pranks towards her friends because she wanted to make them laugh for her jokes, like some other people do, but was unfortunately unsuccessful. Her pranks only ended up angering her friends, which likely damages her friendship. At the day before Saki and Kokona's first day of school at Akademi High, Yui came up with a prank, scaring them off with a spooky stuff that she thinks it will finally make them laugh on duo. However, once she surprised them with her scary prank, Saki and Kokona were really furious at her. Fed up of her pranks, the duo ended their friendship with Yui and asks her not to talk to them ever again.
Heartbroken and guilty for her actions, Yui didn't want to accept of permanent broken friendship so she decides to make up to them. First, she apologizes to Koharu, Mei and Yuna for pranking them so badly, which they accepted her apology. Yui was relieved but then feels uneasy thinking that Saki and Kokona might not forgive her. Her friends support her and give her advice. At before sunset, her friends came with her at the Buraza Town street, Maid Cafe, where Saki and Kokona is. When they encounter her again, the duo were not happy to see Yui as they shot a glare on her thinking that she came there to prank them again. Yui was really nervous to speak up but her friends by her side encouraged her to bravely apologize to them. Finally, Yui said she's sorry to Saki and Kokona and that she was just trying to be funny but realized she was not good at it. The duo remained silent for a moment, but then, Kokona responded positively, implying that she's forgiven. Yui was really relieved and happy and their friendship was restored.
Appearance
Coming soon.
Personality
Yui can be somewhat immature and likes teasing her friends such as embarrassing them, gossiping about their secret she learns, which constantly annoys her friends. Although, she is also friendly, loving and cares for her friends. She would feel bad if she had hurt anyone's feelings and apologize to them. She is very also calming because she never gets angry easily. She is also considered protective that she wouldn't want Simon or her friends to get harmed.
Persona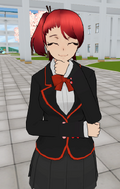 Yui uses the Social Hero. If a camera is aimed at her, she will strike a cute pose. If she witnesses murder, she will attempt to apprehend the culprit. She is capable of participating any physical confrontation against murderers.
Relationships
Kokona Haruka
Yui is one of her best friends before they she and Saki enrolled at Akademi High School and met Simon, mentioned by Kokona. Yui always loved to prank her and Saki but her pranks soon got taken too far. Kokona and Saki was fed up with her pranks and angrily ended their friendship with her. However, Yui managed to reconcile with them for her mistakes. Along with Saki, Kokona eventually considers Yui as their friend once again. She promised not to prank them again.
Saki Miyu
According to Kokona, Saki is one of the two Yui's friends she mostly like to tease. She also loves to prank her and Kokona. However, her pranks were taken too far which resulted Saki and Kokona to end their friendship with her, much to Yui's heartbreak. However, she was eventually able to reconcile with them and their friendship was restored.
Koharu Hinata
Like the rest of her friends, Yui likes teasing Koharu but is friendly to her. There are times they get along with each other.
Yuna Hina
Coming soon.
Mei Mio
Coming soon.
Simon Nakoruru
Yui strongly likes Simon and admires him of his strength and fighting skills after witnessing him defeat the delinquents trying to cause trouble because she finds them awesome. She wanted to idolize Simon's fighting style. This shows that Yui also has interest with martial arts so she decides to join the Martial Arts club and even also surprised to see Simon being a leader of that club as well. Since Simon's the leader of the Martial Arts club, Yui openly wants to learn the all of the moves from him.
Kurai Mori
Kurai is Yui's former schoolmate in another school last year and her rival. Yui was able to provide evidence of her and her sister bullying by recording them using her phone and reported it to the faculty after learning that they have been causing trouble around other students and damaging their reputation. Her actions eventually caused Kurai's sister to end her own life due to suffering of their punishment for bullying from their parents by grounding them from doing what they want to do. This was the reason that resulted Kurai to have grudge and hatred towards Yui, believing this outcome wouldn't have happened if she had stayed quiet about them both and started planning for revenge against her. She soon starts blackmailing Yui by sending her threatening messages, which it creeped Yui out.
Quotes
Coming soon.
Gallery